In Japan, how to dispose garbage depends on the area you live in. Here we inform you, how to dispose trash, how to get rid of oversized garbage, and how to dispose or sell furniture and home appliances when leaving Japan for foreigners residing in Kobe-city. 
Guideline issued by Kobe City
http://www.city.kobe.lg.jp/life/recycle/waketon/img/english.pdf
Please separate your garbage accordingly and take the trash out during 5:00-8:00 in the morning of the specified date. Crows tend to scatter the garbage when garbage is put out the night before.
*This does not apply if your apartment has a 24 hour garbage station.
Garbage Bag designated by Kobe City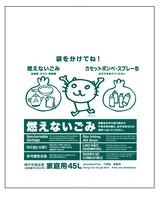 You can buy it at a supermarket or a convenient store.
Oversized garbage
For oversized garbage, it is slightly complicated for foreigner.
What are oversized garbage?
Items too large for 45L designated bags to be fastened.
Items that fit in 45L designated bags but whose individual weight is 5kg or more.
※Neither items provided by Household Appliance Recycling Law (TV, air-conditioner, refrigerator, freezer, washing machine, and clothing dryer) nor PCs are accepted as oversized garbage. These appliances are collected and recycled by manufacturers via retail stores and PCs are recycled by manufacturers. 

Reservation is required for pick up and you need to pay a fee.
1.Apply
Make a reservation in English by calling.  Kobe city Oversized Garbage Reception Center: 078-392-7953
2.Pay a handling fee
Pay a handling fee and obtain City of Kobe Oversized garbage sticker.
The stickers are available at the stores with the mark below.
3.Dispose your oversized garbage
Attach the sticker to each item and take out the item to the specific location.
Selling your furniture
When leaving Japan, there is a cheap way to sell furniture and home appliances to people who need it.  An English web-site named Sayonara Sale below provides specialized pages for such sales. 
https://www.facebook.com/groups/KobeSayonaraSale/
Posted category: Living Guide - Kobe